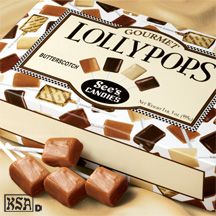 KSA APPLAUDS SEE'S CANDIES REACHING MILESTONE of 100 YEARS
See's Candies was founded by Charles See, his wife Florence, and his mother Mary in Los Angeles California in 1921. The company is now headquartered in South San Francisco, California. See's kitchens are located at its headquarters and maintained at its original factory in Los Angeles, where there are also retail shops. The company has been owned by Warren Buffett's Berkshire Hathaway Corporation since 1972.
Mary See is more than just the iconic face on a box of See's Candies! She developed her own homemade candy recipes. After Mary's husband passed away in 1919, her son Charles suggested that she move to sunny California with him and his wife. There, Charles planned to start his own candy company, selling sweets made from his mother's recipes.
They settled in Pasadena, CA in a post-Victorian bungalow. Mary made candy in the bungalow's black-and-white kitchen. When Charles opened the first See's Candies shop in Los Angeles, he chose the now-iconic checkerboard theme inspired by this kitchen.
Mary took pride in her homemade candy, using only the finest and freshest ingredients-a tradition continued by See's to this day.
With that first See's shop in Los Angeles, it developed into a place where employees were treated like family and customers were warmly greeted with a free sample. Only the finest and freshest ingredients were accepted in their candy kitchen, causing suppliers to coin the phrase "See's quality"-higher than "top quality."
Thanks to Charles' passion and intelligence, See's not only survived the Great Depression and World War II, it thrived and continued to grow as a company. His innovative bulk-rate candy buying program kept See's afloat through those difficult years.
Charles grew his company to 78 shops across California, never compromising on the quality or deliciousness of See's Candies. When he passed away in 1949 due to a heart ailment, his son, Laurance A. See succeeded him as President. But Charles' legacy lives on, and his motto, "Quality Without Compromise®," continues to guide the company.
Kosher Supervision of America (KSA) has been kosher certifying select See's candys and chocolates being produced at both the Los Angeles and the South San Francisco facilities close to 20 years!
Though the equipment has been updated over the years, the candy conveyors still look very much the same as they did in the early days. Carrying pieces of candy down the line to be sorted, enrobed in chocolate, showered with sprinkles or packed into boxes, these conveyors remain a candy kitchen essential. Not to mention, they were the inspiration for one of Lucille Ball's most famous (and funniest) acts on the I Love Lucy Tv show.
KSA is proud to be a partner with See's candies and extends its heartfelt 'Mazal-tov- Congratulations' on reaching this momentous milestone!